5 of the Healthiest Seafood Options You Should Eat Today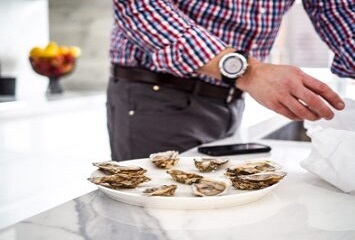 Updated May 2023
You've probably heard the recommendation for eating fish at least twice a week. Generally speaking, most seafood is a lean and healthy source of protein and Omega-3 oils— fatty acids that are important for heart and brain health.
If you're relatively new to seafood, the choices can be overwhelming. There is a huge range of fish and seafood to choose from, from canned tuna to tropical firm fish! Below we will break down a selection of fish to help you try a little bit of everything and make healthier choices along the way. You may find you start to switch out some of the meat in your favorite foods for fish and seafood alternatives!
We've compiled a list of the healthiest fish and seafood options you can incorporate them into your diet. But while these are some of the healthiest fish to eat, we've also prioritized seafood suggestions, which are better for the environment.
Keep an Eye on These Healthy and Sustainable Seafood Selections
Buying seafood is no longer as simple as asking the fishmonger to give you a fresh-looking fillet. We should all try to prioritise supporting sustainable fishing practices. Even opting for wild-caught salmon over farmed salmon can make a difference to your personal carbon footprint.
To help you make informed decisions when shopping for seafood, we've put together this quick guide on how to buy seafood that's not only healthy but also sustainable to boot, based on recommendations by the US FDA, EPA, and the Monterey Bay Aquarium Seafood Watch program.
1. Clams and Clam Meat
Quick Pasta with Whole Clams in Shell with PanaPesca Clams in Shell
Whether wild-caught or farm-raised, clams are generally good for the environment and safe to eat. They're packed with protein and nutrients like magnesium, potassium, and iron. If you're eating clams (or any other fish, for that matter) caught fresh by friends or family, be sure to check local fish advisories to stay safe. 
If you haven't tried clams before, you could try starting with baby clams that are smaller and have a mild flavor. If you don't want the fuss of the shells, you can also get fully prepped clam meat which is easy to add to seafood salads and light pasta dishes.
---
2. Calamari Tubes and Tentacles
The health benefits of eating squid are linked to its relatively high protein content, providing around 18 grams per four-ounce serving. Squid also contains high levels of vitamin C, calcium, and iron. 
Calamari is increasingly popular both on restaurant menus and in home cooking. As well as being a healthy seafood option, it is also highly versatile. Squid rings are very popular as a convenient, protein-rich snack. Calamari tubes are great for stuffing to add flavor and texture, and the tentacles are also great when fried for lots of crispy bits to scoop up sauce and dips.
Squid doesn't have an overly fishy flavor and also has a firm texture, so it is great for anyone who usually eats a lot of meat. You can easily incorporate calamari into your diet as a low-fat alternative. 
---
3. Scallops 
Scallops are generally good for the environment, whether sourced from farms or wild-caught. Scallops are protein-dense (34% protein for a one-ounce serving), low in fat, and rich in vitamin B12 and omega-3 fatty acids.
For a healthy meal, sear off-shell scallops on both sides, add a twist of lemon and serve. You can also use scallops in the shell and top with your favorite garnish, cooking under the grill with no oil added.
---
4. Hake
We've looked at some healthy shellfish options, but what is the healthiest fish? When choosing which fish to eat, you want to avoid 'fatty fish.' While fish and seafood are generally lower in fat than meat alternatives, if you want to seek out the healthiest fish to eat, you should avoid oily fish.
Hake is a white fish which is an excellent source of protein. Like all fish, hake is low in saturated fat (the bad kind). Look for hake carrying the blue MSC label, which will certify that it comes from a fishery that complies with the MSC Fisheries Standard for best practices. 
---
5. Red Drum
Red drum, also known as redfish, is a lean, white-fleshed finfish rated 'best choice' by Seafood Watch. This is another of the healthiest fish to eat, thanks to their low saturated fat content. Another feature of the healthiest fish is being low in calories, as well as being a good source of other vitamins and minerals. Red drum is rich in calcium, protein, selenium, and niacin.
By prioritizing wild-caught produce or sustainable farm-reared fish, you can continue to include seafood in your weekly meals and not have to worry about harming the environment. Eat fish as part of a balanced diet to increase your omega-3 and vitamin intake.
---
For more buying guides and insights on seafood sustainability, be sure to follow the PanaPesca blog. You can also explore our shop and get free shipping on all orders over $150.