5 Seafood Recipes to Try This Lent (That Aren't Fish)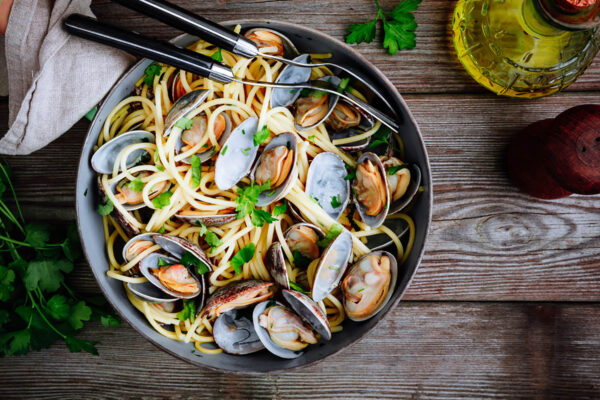 Lent is here, and the countdown to Easter is officially underway. If you're serious about abstaining from any meat on Fridays over the next several weeks, you may be worried about how to mix things up, especially if you have kids who aren't thrilled with the idea of the usual fish dinner.
Don't worry. We've put together a list of five seafood recipes (that aren't fish) that are so delicious you won't even miss having meat. Whether you're giving up meat until Easter or simply want nutritious, omega-3 and omega-6 rich alternatives, you'll find something in this list that's perfect for you. 
1. Squid Summer Rolls with Peanut Sauce
This refreshing seafood recipe inspired by Southeast Asian flavors uses PanaPesca's Jumbo Squid Tentacles, which come in conveniently portioned packages — enough for 12 rolls or so. The combination of rice noodles, rice paper wrappers, mung bean sprouts, mint, cilantro, lettuce, and julienned cucumbers makes for a light and healthy lunch, dinner, or appetizer.
Try our Squid Summer Rolls with Peanut Sauce recipe at PanaPesca USA. 
2. Quick Pasta with Whole Clams in Shell
Bring the flavors of Sicily into your home with this quick pasta recipe. For fast food prep, use our conveniently portioned MSC-certified hardshell clams and combine them with garlic oil, shallots, marinara sauce, and white wine. Top things off with a sprig of basil for color. 
You can also shell the clams before tossing them with your pasta — great for kids and picky eaters. 
Try our Quick Pasta with Whole Clams in Shell recipe at PanaPesca USA. 
3. Garlic Parmesan Baked Oysters
This sinfully cheesy and garlicky baked oyster treat is sure to have you and your family asking for seconds. After thawing our Hillman Half Shell Oysters, top it with a mix of parmesan cheese, butter, garlic, and lemon juice before baking — super simple and absolutely delicious. You can also experiment with different cheeses of your choice. 
Try our Garlic Parmesan Baked Oysters recipe at PanaPesca USA. 
4. Seafood Paella
Seafood paella can be a tricky dish to make at home because of the long list of ingredients it requires. But with PanaPesca's Seafood Mix or Paella Mix, you can get a diverse selection of seafood ingredients, including squid rings and tentacles, cooked hardshell clams, cooked blue mussels, and shrimp in conveniently sized portions. All that's left to prepare are your rice, vegetables, tomato sauce, and vegetable stock.
Try our Seafood Paella recipe at PanaPesca USA. 
5. Korean Style Octopus Poke Salad
This fusion dish inspired by Korean and Hawaiian cuisine uses octopus instead of the usual diced fish found in poke — great for adventurous home cooks looking to serve something different this Lent. 
Many people tend to stay away from octopus because of its reputation for being an intimidating ingredient to prepare. But with PanaPesca's Octopus Tentacles, all you have to do is focus on cooking, as our octopus is already blanched and conveniently portioned. 
Try our Korean Style Octopus Poke Salad recipe at PanaPesca USA. 
---
For more exciting seafood recipes, be sure to explore our Recipes section for guides on using our wide variety of seafood products. You can also browse our catalog today and order our seafood direct to your door!