The Best Seafood Recipe to Add to Your Restaurant Menu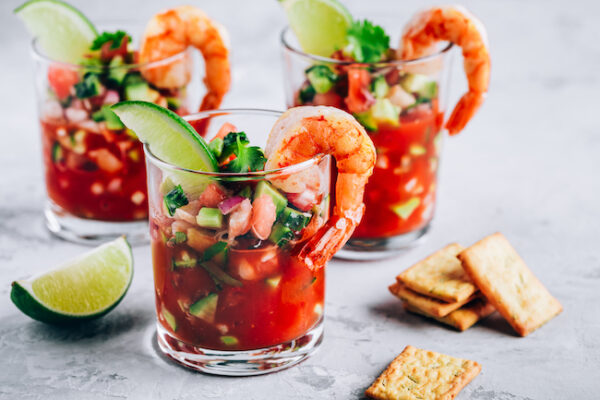 Are you looking for the perfect seafood recipe to add to your restaurant menu? Look no further! This delicious and easy-to-make recipe will have your customers coming back for more. It's great to show off your culinary skills and impress your diners using tempting and nutritious ingredients — and shrimp is rich in omega-3, iodine, calcium, and protein. It is also one of the most popular kinds of seafood in the US. Plus, shrimp is delicious, versatile, and readily available, making it ideal for some of the best seafood recipes for restaurants around.
Whether your restaurant specializes in seafood or not, this dish is sure to please. It's a spin on a much-loved classic, the prawn cocktail, popularized in Great Britain and the States in the 1960s. But this version is a little different, as it comes with a Mexican twist. In this recipe, we've spiced things up. With juicy shrimp, a fiery kick, and then a cool refreshing relish to top it off, this recipe will jump out on a menu. This one's a crowd-pleaser and one of the best seafood recipes you can add to your restaurant menu.
We've done all the hard work for you, so what are you waiting for? Give this seafood recipe a try today!
How to Make Spicy, Mexican-Style Shrimp Cocktails
This delicious recipe will make up to 12 servings, but if you want to increase the quantity, simply double the ingredients. For an extra burst of freshness and sweetness, we highly recommend using freshly chopped tomatoes instead of canned tomatoes.
The Spicy Shrimp Cocktail Recipe
Prep Time: 10 mins
Cooking Time: 15 mins
Total Time: 25 mins
The Ingredients
2 pounds of PanaPesca Argentinian Red Shrimp
A pinch of Kosher salt
2 cups of chopped red onion
2 cups of diced cucumber (peeled if you prefer)
1 cup of finely chopped celery
2 minced jalapeños
3 cups of chopped fresh tomatoes or x2 cans of whole peeled tomatoes
1 cup of ketchup
1/2 a cup of chopped cilantro (extra to garnish)
4 tablespoons of lime juice
4 tablespoons of tabasco or a hot sauce of your preference (add as much or as little as you like)
2 chopped avocados.
The Method
Our Argentinian shrimp are peeled, deveined, raw, and ready to cook — which will eliminate a lot of prep time. Pour four quarts of water into a medium pot with a tablespoon of Kosher salt and bring to a boil. Add your shrimp and cook for two-to-three minutes and keep two cups of the cooking water to chill in the refrigerator.
After the shrimp is cooked, take half the full portion and cut them into chunks. Leave the other portion as whole pieces, which you can use for presentation purposes later.
Combine the chopped shrimp with the other ingredients in a bowl, apart from the avocado, and gently stir. Now, put the combined ingredients in the refrigerator with the chilled cooking water.
Wait for the mixture to chill for around 10 minutes. Check if the cooking water has cooled to room temperature. If it is, take the cooking water out of the refrigerator and add a little at a time to the shrimp cocktail mixture until it's to your desired consistency.
Before serving, taste your spicy shrimp cocktail and add more hot sauce or salt to taste. Then, stir in the chopped avocados.
Your shrimp dish is now ready! Serve in cocktail glasses or small bowls, and place the whole shrimp you've set aside on top for presentation. Sprinkle a little cilantro and present to your delighted customer with a slice of crusty bread or tortilla chips.
The Best Seafood Recipe
We love this seafood recipe because it's quick to prepare, delicious, simple, and highly nutritious. It puts an edge on the classic creaminess of a shrimp cocktail and is a great starter or appetizer to tantalize your clientele before they dig into your other signature dishes.
Looking for more high-quality seafood? All our seafood is sustainably sourced and easy to prepare. Have a browse of our seafood products for retail today.