Cooking with Oysters, Clams, and Mussels: 9 Recipes to Try this Weekend


Knowing how to prep and cook shellfish properly can seem intimidating, but it's a skill that's relatively easy to pick up.
Clams, mussels, oysters, and other shellfish are perhaps the most flexible seafood ingredients out there. They're perfect with pasta, rice, soup, or simply on their own with a squeeze of lemon juice or vinegar. 
Perhaps best of all, most recipes that use shellfish are relatively quick; if you cook something like clams for too long or on very high heat, it becomes leathery and unappetizing. 
If you haven't already, be sure to read our Ultimate Guide to Cooking Shellfish to learn how to properly store, clean, and shuck shellfish. This time around, we've put together a bunch of quick and easy to clams and mussels recipes for you to experiment with using PanaPescas' very own selection of frozen shellfish products.


1. Grilled Teriyaki Shrimp & Scallop Skewers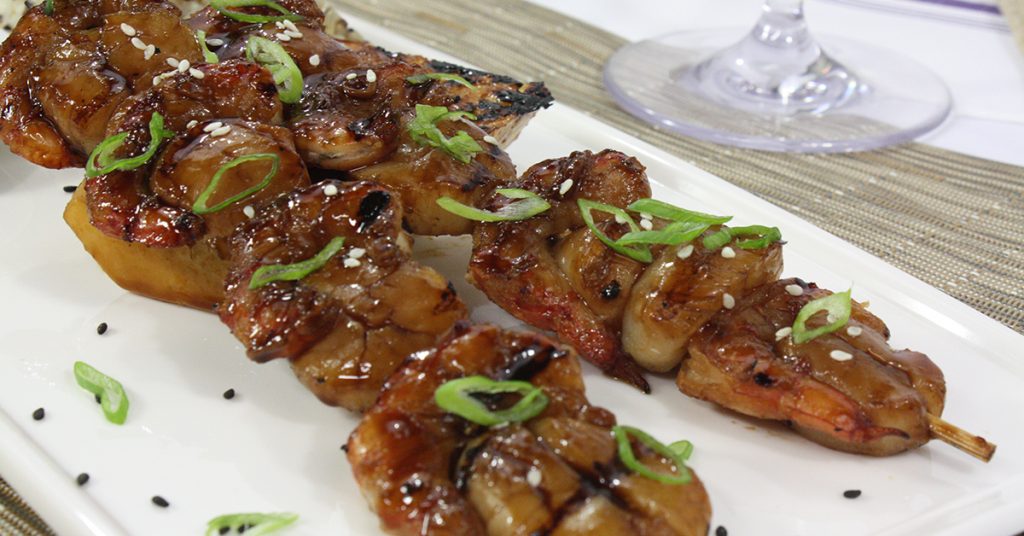 This recipe substitutes traditional chicken or pork with PanaPesca's shrimp and scallops skewers. Pair it with your favorite teriyaki sauce, which you can prepare the night before and chill until you're ready to use it. Feel free to make your glaze as spicy or savory as you want. 
Because shrimp and scallops cook much faster than red meats and chicken, expect faster grilling times from this seafood take on a classic recipe. Serve with potatoes or rice and a side of grilled pineapple for the perfect weekend barbecue. 
Check out our Grilled Teriyaki Shrimp & Scallop Skewers recipe at PanaPesca USA.


2. Linguini & Clams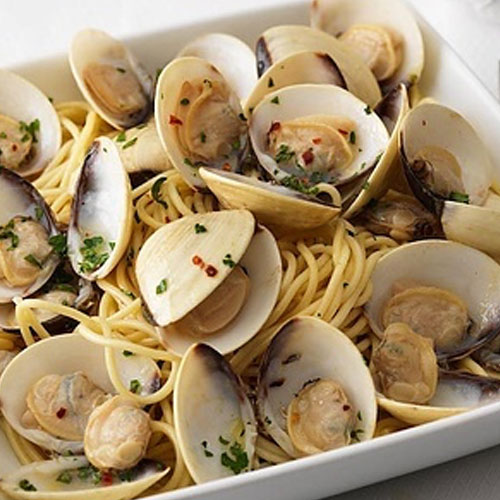 What could be more classic than spaghetti alle vongole? This lightning-fast recipe for an Italian classic features our conveniently portioned MSC-certified hardshell clams and a few staples: white wine, olive oil, garlic, shallots, and spaghetti (or pasta of your choice). Add a sprig of basil or parsley for color. 
If you have kids or picky eaters new to clams, remove the shells and simply toss the meat with the pasta. 
Try our Linguini & Clams recipe at PanaPesca USA.


3. Portuguese Steamers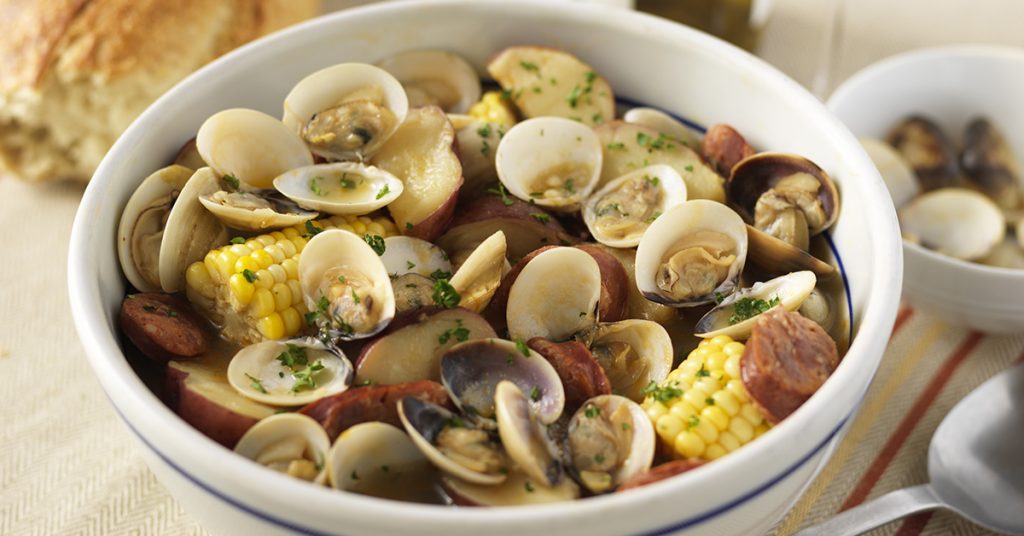 This hearty clam recipe traces its roots back to the Portuguese communities of Rhode Island that lived on the day's fresh catch for decades. While many will argue that the traditional way to make this recipe is with white wine, feel free to use your favorite domestic beer for that true American touch. We recommend bringing out a warm, crusty loaf of bread to mop up the delicious broth.
To take the hassle out of cleaning clams yourself, use PanaPesca's MSC-certified hardshell clams — just thaw and you're ready to go. 
Follow this Portuguese Steamers recipe brought to you by PanaPesca USA.


4. Garlic Parmesan Baked Oysters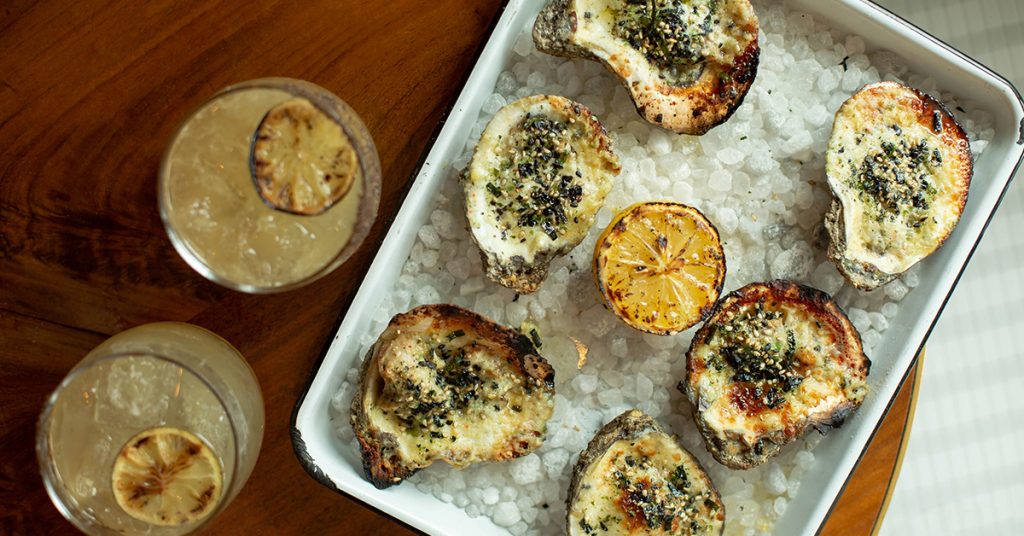 Few things in life are as good as baked oysters swimming in a cheesy, buttery garlic sauce. In a separate bowl, combine parmesan cheese, butter, garlic, parsley, and freshly squeezed lemon juice. Once your oysters have been thawed, place a tablespoon of your butter mixture on each oyster and add more grated cheese before baking or grilling. 
Our conveniently packaged Hillman half-shell oysters are perfect for the job — simply thaw and start cooking. 
Try our Garlic Parmesan Baked Oysters recipe at PanaPesca USA. 


5. Seafood Paella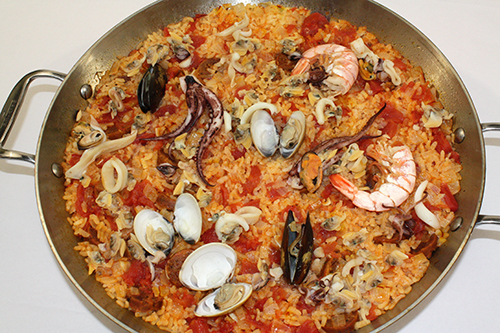 Seafood paella is often one of those dishes most people would rather order at a restaurant than make at home because of the long list of ingredients involved. 
PanaPesca's frozen seafood mix or paella mix is just what you need, giving you everything from squid rings to clams and blue mussels and shrimp in a conveniently portioned package. So you don't have to worry about food waste and paying more for ingredients you don't need. All you need to do now is follow this recipe and prepare your rice, vegetable stock, tomato sauce, and vegetables of your choice.
Check out this Seafood Paella recipe at PanaPesca USA. 


6. Yankee Clam Chowder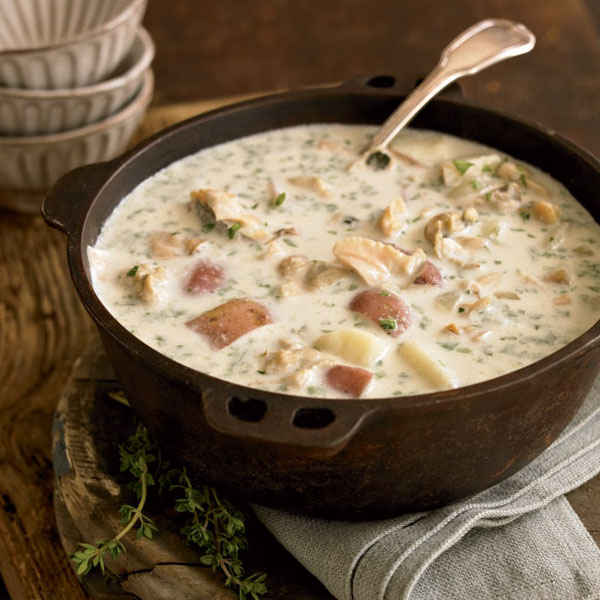 This New England classic is comfort food at its best. Yankee Clam chowder (or as they say, chow-dah) is distinguished by using cream or milk on top of traditional ingredients like salt pork (or bacon) and potatoes. 
Considered "peasant food" in the past, New England-style clam chowder is a simple, one-pot recipe that's become a true staple in American restaurants. You can take things to the next level by serving your chowder in a fancy bread bowl. 
Check out our Yankee Clam Chowder recipe at PanaPesca USA. 


7. Athenian Flatbread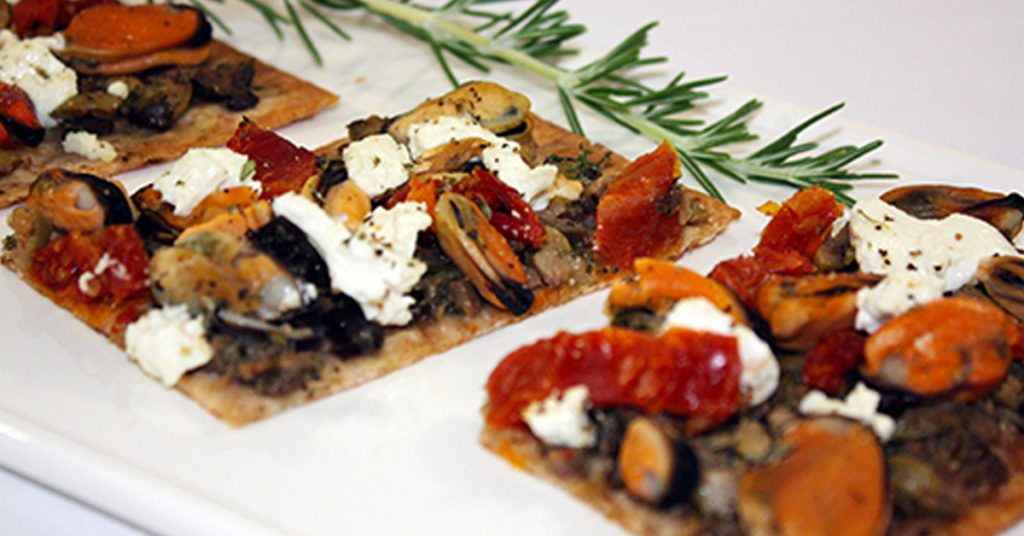 This pescetarian take on a Greek-inspired recipe uses no more than six ingredients: PanaPesca's mussel meats, flatbread, olive oil, olive tapenade, goat cheese, and sundried tomatoes. Assemble your flatbreads and slide into a 400°F for 10 minutes. Pair with a glass of your favorite white wine for a true Mediterranean meal.
Check out this recipe for Athenian Flatbread at PanaPesca USA.


8. Three Minute Scallops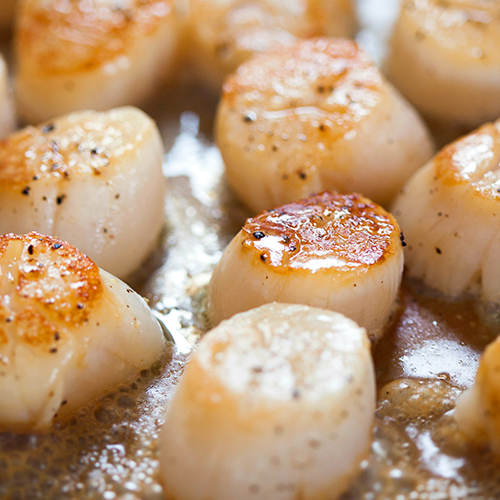 For those nights when you want a comforting meal that takes no more than a few minutes to make, this simple scallop recipe should get the job done. Simply thaw and sear a pack of our PanaPesca scallops and smother them in a delicious white wine reduction. Garnish with fresh parsley and serve with your favorite starchy carb.
Save our Three Minute Scallops recipe brought to you by PanaPesca USA. 


9. Thai Mussels with Glass Noodles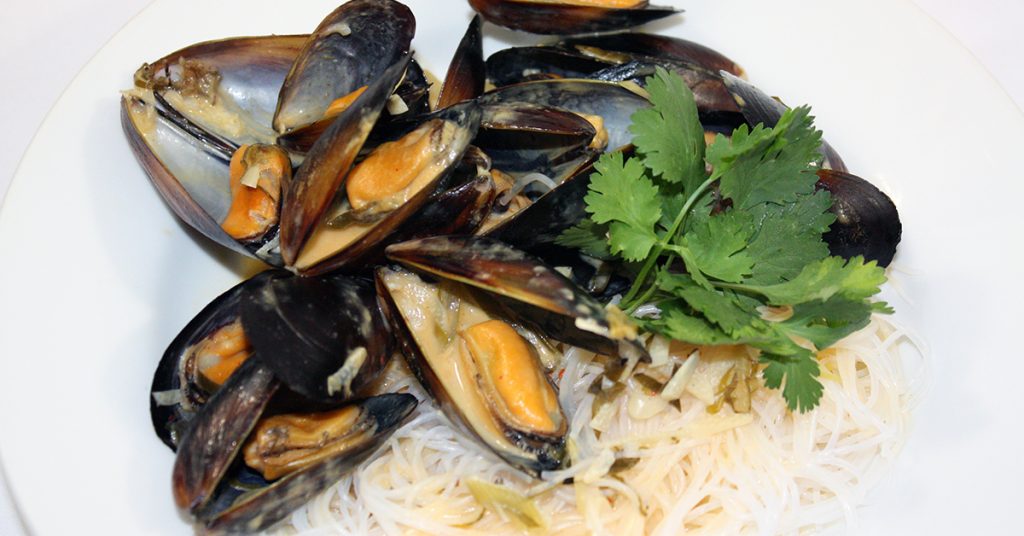 Finally, our food trip ends in Asia with this Thai noodle dish featuring PanaPesca's blue mussels. The rich broth of coconut cream and Thai curry paste, topped with the tangy flavor of freshly squeezed lime juice, will have you imagining yourself in a noodle stand in Bangkok. Add chilies if you like things on the spicy side. 
Check out this recipe for Thai Mussels with Glass Noodles at PanaPesca USA. 
---
Find more exciting seafood recipes featuring PanaPesca's exciting range of frozen shellfish products in our Recipes section. You can also browse our catalog today and have your seafood shipped directly to your door for FREE with a minimum purchase of $150.