Fun Seafood Recipes to Try This Month
As we prepare for the end of summer, it's time to make the most of those warm evenings with good company, great food, and plenty of fun. Although it may be tempting to resort to your tried and true recipes, we want to show you why seafood has become even more popular across the country by exploring nine fun and delicious seafood dishes for you to enjoy.
Yankee Clam Chowder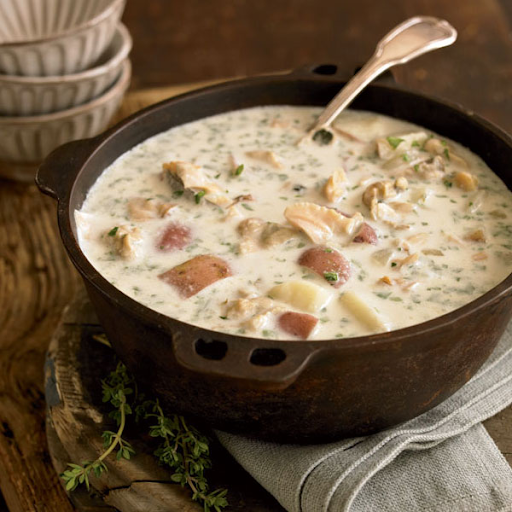 A quintessential classic, Yankee Clam Chowder or New England Clam Chowder originated in the northeast in New England but has become hugely popular throughout the country. This rich, warm chowder is one of the nation's most popular seafood dishes. This dish is perfect for enjoying together with your loved ones, friends, and family.
One of the best things about this recipe is the fairly simple preparation, especially when using PanaPesca baby clam meat which already contains natural clam juice, perfect for a delicious dish of Clam Chowder.
Check out our recipe here
1. Garlic and Parmesan Oysters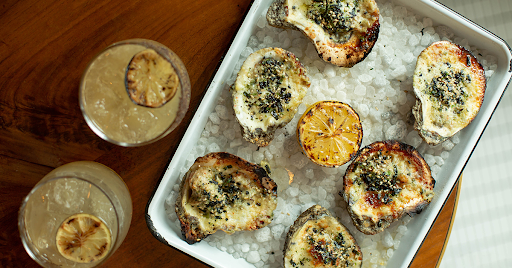 Nothing screams sophistication like oysters, and that's why they are the feature in another one of our favorite seafood dishes. Garlic and Parmesan Oysters are the ultimate hors d'oeuvre for any seafood dinner party, so have fun serving up a little sophistication. 
All you need to make this classic seafood dish is half-shell oysters, garlic, lemon, and a couple of other seasonings. Just put them in the oven or grill and get ready to enjoy mouthwatering seafood. 
Check out PanaPesca's recipe and enjoy unbeatable garlic and parmesan oysters.
3. Seafood Paella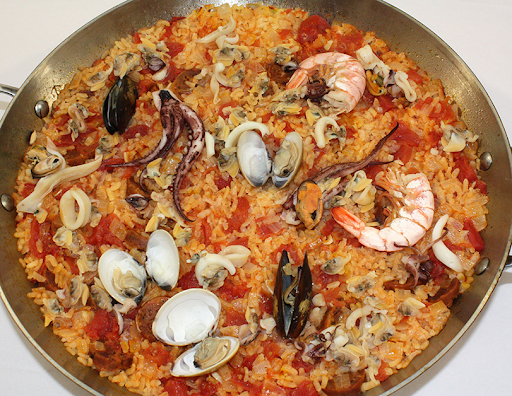 Seafood paella has traveled from its native home in Valencia, Spain, to every corner of the world; and has become fully adopted into the US seafood repertoire. 
This delicious rice dish is always the star of the show and is the perfect dish for large dinner parties or groups. Although generally prepared in a special "paellera" pan, any wide bottom pan will work when cooking up all the ingredients. The great thing about this seafood dish is you can have a little fun with it by adding whatever seafood you like, although we recommend our seafood paella mix. 
Check out our Paella recipe.
3. Quick Pasta with Whole Mussels in Shell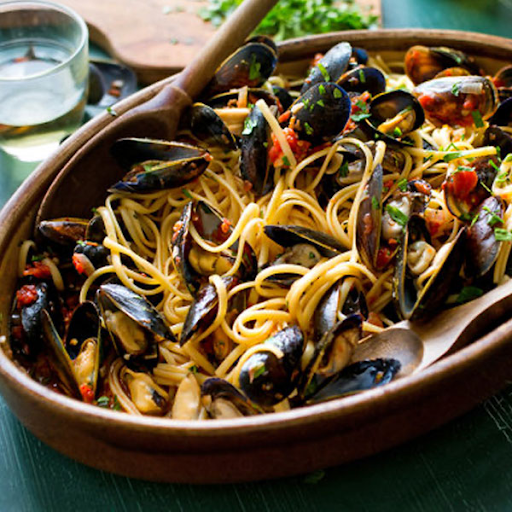 Although pasta dishes are generally associated with Europe and Italy, they have conquered the globe thanks to pasta's versatility. As a result, pasta is one of the most commonly consumed dishes. So mix it with one of our favorite seafood — mussels — and you have a winning combination. 
This quick dish is super simple and delicious. All you need to do is saute your garlic and shallots, add your mussels and white wine and then serve over a plate of fresh pasta. Don't believe a seafood dish can be that simple? Check out our recipe.
4. Pan-Seared Scallops in Butter Sauce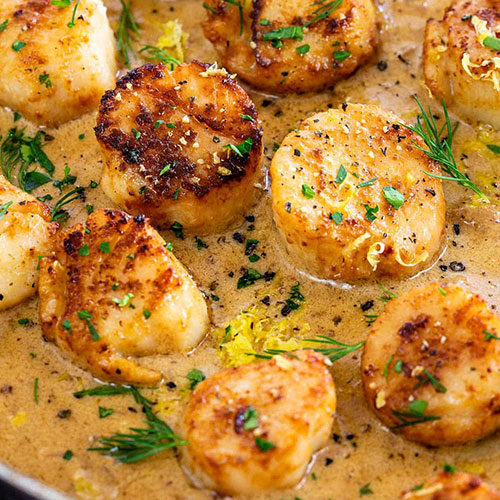 Scallops are one of the most popular seafoods found on restaurant menus. These delicious mollusks are amazing as a starter or a main, with a range of sides. However, the mouthwatering recipe we have selected is pan-seared scallops in butter sauce. 
This fun seafood recipe requires premium quality scallops, butter, lemon juice, and seasoning, and that is it. It's simple, just cook up your scallops along with the butter and seasonings using a skillet, and prepare for a true taste sensation. 
Find our recipe here.
5. Bacon-Wrapped Shrimp and Scallop Skewers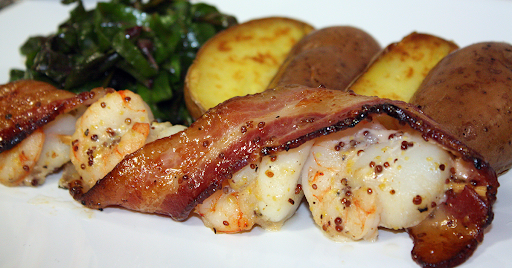 Here in the US, we love a BBQ, and there are few better options for grilling than a bacon-wrapped shrimp and scallop skewer. The bacon flavors combine perfectly with the fresh seafood, and that classic charcoal hint brings the whole meal together. 
The best thing about these skewers is you can order your shrimp and scallop skewers pre-prepared at PanaPesca USA. That means all you have to do is wrap in bacon and grill to your liking. This is easily one of our favorite fun seafood recipes.
Check out our recipe here.
6. Three Minute Scallops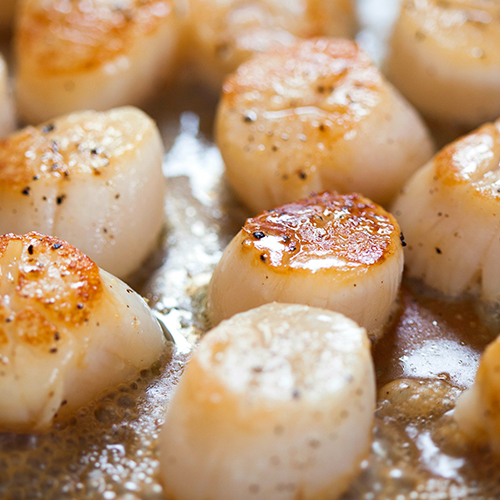 Not everyone has time to spend filleting and shelling in preparation for a special seafood meal, and that is why our three-minute scallop dish has become such a popular recipe. All you need to make these mouthwatering scallops is our PanaPesca scallops, garlic, white wine, parsley, and lemon juice, and you can make the ultimate seafood starter. 
Check out the full instructions on how to make our three-minute scallops recipe.
7. Shrimp Fajita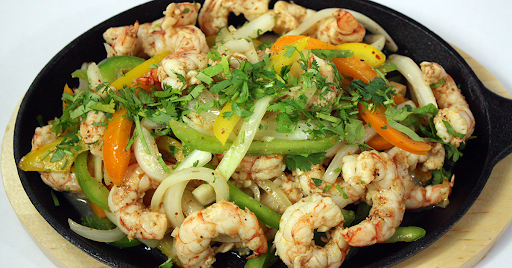 Although there are so many delicious Tex-Mex dishes to choose from, our shrimp fajita dish has to be one of the tastiest dishes and one of the most fun seafood recipes to try. 
As long as you have some premium shrimp, this simple recipe can come together in less than 10 minutes. So enjoy this light and refreshing dish this summer and expand your fun seafood recipe repertoire with our shrimp fajita recipe.
8. Peppered Fried Calamari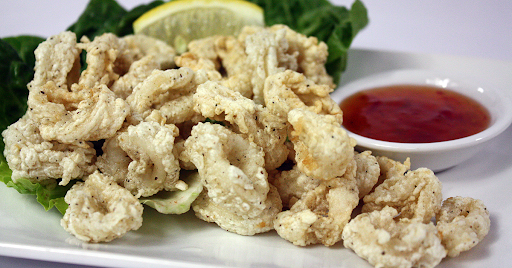 As far as guilty pleasures go, fried food is right up there, and there are few recipes as delicious as our peppered fried calamari. Although calamari is incredible by itself, the process of deep-frying in corn starch, flour, salt, and pepper gives it a new dimension that cements it as one of the best seafood recipes.
All you need are some premium calamari rings, rings and tentacles or tubes and tentacles, and you can start frying. Find the full peppered fried shrimp recipe on our website. 
For more delicious seafood recipes, check out our recipe section and enjoy a range of seafood recipes. You can also check our PanaPesca USA catalog and order premium seafood straight to your home.