How to Source the Best Seafood Restaurant Suppliers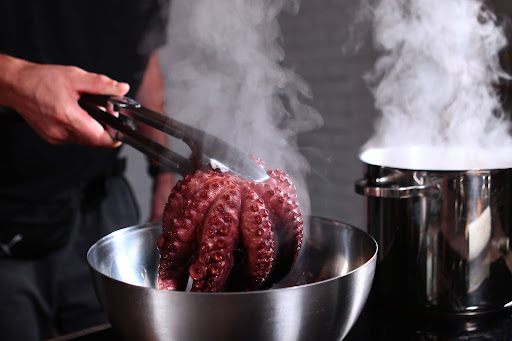 Shopping for your business is where chefs can let their creative juices flow. Whether your business has one person who takes the lead, or a whole food development team working on your menu, ingredients are key.
With so many factors at play regarding food planning and buying as a business, it can be difficult to know where to start. Here's some things to consider when sourcing wholesale food suppliers for restaurants.
Establish Your Food Budget
While buying high-quality seafood is the priority, it's important that restaurant managers or owners establish a firm budget when shopping wholesale for ingredients. Working closely with the finance department and food service team, work out the budget for dried goods, canned foods, meats, and fish, so you have all supplies covered. Make sure beverage supplies are also included in the budget before you start spending on food products.
Of course, seafood menu items like scallops, lobster tails, and oysters carry a higher price point, which means distributors will charge more but also customers are prepared to pay more for these kinds of premium seafood. You can also offset these high price ingredients with other seafood options like shrimp and clams that have the potential for a higher markup due to their lower price point.
Because of the ease of storage, buying frozen seafood is more cost-effective than buying fresh produce. It also reduces the cost prices of seafood products, which is another reason restaurants often opt for frozen fish and seafood. Even high-profile industry names like chef Barton Seaver have commented, "frozen seafood carries better prices".
Decide between Fresh and Frozen Seafood
For restaurants, the quality of food products is the most crucial factor when seeking out a seafood distributor. Everyone wants to serve the finest products available, whether you plan to serve a fine dining menu or tasty bar snacks. To do that, you need to source the best ingredients.
While low prices, local suppliers, and factors like a large selection all come into play, it's ultimately the best quality products that chefs are interested in. Much of the quality associated with seafood is the freshness of the product. So how can food buyers guarantee they're getting the freshest?
Technically, frozen fish is as fresh as it gets. You can freeze fish as quickly as four hours after being caught, which locks in the nutrients and seals freshness. Using frozen fish in sushi can be safer and healthier than fish that hasn't been frozen. 
Even sustainability specialists champion the perks of frozen seafood, as frozen seafood can help tackle food waste issues in the restaurant industry. Frozen foods, of course, keep longer, which helps reduce the risk of spoiling and going past their use-by date. This is true of many food products, not just fish and seafood! Ensure your food service team knows how to correctly store frozen fish to avoid any issues.
Find a Flexible Wholesale Food Supplier for Your Restaurant
All restaurant managers and chefs know that anything can change on a dime in the hospitality industry. Restaurant staff need to be reactive, whether it's food trends, demand, shortages, or unexpected closure. 
Find seafood restaurant suppliers that will accommodate the changes to your business. For example, some suppliers dictate a large minimum order quantity, which can restrict your restaurant if you want to buy smaller volumes of produce. You should also consider shipping costs and logistics. Perhaps you need a delivery seven days a week, so you should check if they can fulfill those needs. Some culinary partners have exclusivity agreements, so they may only supply to a limited number of restaurants in one area as a commitment to their other customers. This is something to consider if your restaurant is in a very built-up location.
Good wholesale restaurant suppliers will listen to your needs and provide tailored solutions. Some seafood suppliers will offer an automated order so you don't need to fill in a purchase every month, which helps you to save time that you can better use elsewhere in the business. Some offer monthly specials that you can use for specials in the restaurant.
Conduct Thorough Research
When seeking out seafood restaurant suppliers, you should feel confident knowing where they are sourcing their products. Speak to distributors about their fishing practices if they do it in-house or their suppliers if you're buying through a wholesaler. You have a right to know about their supply chain, which becomes part of your supply chain.
Good seafood suppliers will have this information published on their websites or in their catalogues and will be completely transparent about the origin of their products. This is reassuring for you as a business, as once you hire their services, your reputation is also on the line.
Read the Reviews
Partnering with a seafood company is a lot of responsibility, so ensure you seek out any additional information. Read reviews before you enter a business relationship with a seafood supplier, so you're confident in their ability to fulfill your needs.
You can also speak to other restaurant managers and chefs in the industry to ask for recommendations. Word-of-mouth marketing can be extremely valuable for hospitality businesses and may provide insights that you may not find online.
It's also worth checking if the distributor's values align with that of your own business. For example, if you are passionate about sustainability in seafood, you want to collaborate with other businesses that share those values. Part of sustainability is ensuring your supply chain strives for leaner and greener practices, so seek out businesses with similar values.
Taste, Taste, Taste!
You wouldn't serve a dish in your restaurant without first doing a taste test, and the same goes for sourcing and buying food products. Some food suppliers will offer samples to chefs wanting to buy wholesale, so you can test the quality of the products in advance. Even without a sample, you can make a smaller order initially and scale up from there once you're confident about the level of quality.
PanaPesca is a reliable and trusted supplier of premium frozen seafood products. Explore our wide range of frozen seafood online today.