Keto Seafood Recipes for an Effective Keto Diet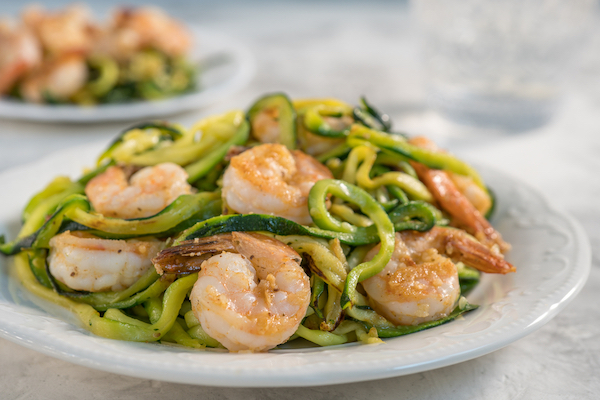 Keto may feel like a buzzword, but it's an increasingly popular lifestyle choice. In 2019, North America was the largest regional market for ketogenic diets, with more than a 35.0% share. Here, we suggest some perfect keto-friendly recipes if you love seafood.
What Is a Keto Diet?
"Keto" is a short way of saying ketogenic diet and is a food pattern that is low in carbohydrates and high in fat. These restrictions keep your body in a stage of "ketosis", which refers to a metabolic state during which your body burns fat.
There are different types of keto diets, but we'll focus on the Standard Keto Diet (SKD). This is a very low-carb, moderate-protein, high-fat diet. Meals typically contain 70% fat, and the rest of the diet is made up of 20% protein and 10% carbs.
Is Keto Just Low Carb?
Keto is a low-carb diet, but low-carb diets are not necessarily keto. Keto is more strict than a standard low-carb diet and also encourages eating high-fat content foods alongside cutting out carbohydrates.
Keto is also similar to the Atkins Diet, although, on Atkins, you do gradually increase the number of carbs eaten, whereas keto remains low carb.
How Can Seafood Complement a Keto Diet?
Many people follow a long-term keto food plan, but many struggle with how restrictive it is. One of the hardest things about sticking to keto is that your options really are limited. Incorporating seafood recipes into your meal plan is an excellent way to add variety to a restricted diet.
Seafood is highly versatile and can help bring some excitement back into mealtimes! Here are some keto fish recipes and seafood recipes for you to try today.
Keto Fish Recipes
When it comes to keto, some fish are better than others. Fish, in general, is very keto-friendly because almost all types contain no carbs. However, unlike a simple low-carb diet, keto still requires a high-fat content.
Blackened Redfish
Some people find keto-friendly recipes a little bland or repetitive, so this blackened redfish dish is a great way to pack plenty of flavor into your meals.
Red Drum, also referred to as redfish, is so called because of the red hue of its skin. Not to be confused with fish like salmon that have pink colored flesh, red drum flesh is white when cooked.
The "blackened" element refers to the style of cooking and a heavily coated spice rub. Blackening is a Cajun technique that cooks coated meat or fish on high heat to give the outer coating a crusty "bark" and maximum flavor. The combination of spices is open to interpretation. It is an excellent way to use up the herbs and spices in your pantry and is typically made up of paprika, onion powder, garlic powder, thyme, oregano, cayenne pepper, and of course, salt, and pepper.
Dip your fish into butter before coating it in the spice rub to help it stick and boost flavor. These Cajun flavors work great with many different fish recipes, but to turn this into a satisfying keto fish dish, we recommend serving it as a taco bowl with plenty of coleslaw.
Creamy Baked Hake
Keto followers will be pleased to hear that a cream sauce is keto-friendly thanks to its high-fat, low-carb content. White sauce pairs brilliantly with white fish, allowing for experimentation with keto fish recipes!
Cape hake is a white fish that responds well to any cooking style. It has no carb content, so it is a great keto choice. You can bake your cape hake in a hot oven in as little as 10 mins.
Add to a casserole dish and top with your cream sauce before baking. This creamy lemon sauce is an excellent suggestion for a quick keto dinner that is tasty and filling. A hint of mustard complements the lemon juice and helps add a richer flavor.
Seafood Recipes for Keto
As seafood options are so vast, it's inevitable that the carb count varies depending on the type. For example, shrimp and most crabs contain no carbs, whereas oysters and octopuses do. While they are still relatively low in carbs, monitoring your intake is important to ensure the body stays in a state of ketosis.
Try some of these keto seafood recipes for your next meal!
Seafood Paella
Paella may seem like a dish you must sacrifice when following keto because it's a rice-based dish. However, you can easily substitute the paella rice for cauliflower rice which works great in this dish. Make sure you don't overcook your cauliflower rice, leave some bite to it to bring texture to the dish.
One of the best things about paella is you can choose any protein you like to accompany it! Try the PanaPesca paella mix, a perfectly portioned combination of premium quality calamari rings and tentacles, cooked hardshell clams, cooked blue mussels, and shrimp. Use our favorite seafood paella recipe and add your cauliflower rice in the last few minutes instead to give you the keto-friendly version.
Clam Linguine
While pasta is a no-go on keto, switching linguine out for zucchini noodles is a really straightforward swap that means you can still enjoy twirling "pasta". Zucchini noodles or "zoodles" are easily made with a spiralizer. Select a long spaghetti shape then flash fry in a big frying pan.
Clams are a low-carb and low-sodium seafood option. Follow this recipe for pasta with clam meat sauce for the base of the keto version. Just switch out the pasta. Opt for the pre-shelled clam meat with juice to give you more seafood sauce to coat your zoodles.
Mussels in Garlic Cream Sauce
While mussels have some carb contain they are still extremely low carb so worth incorporating into a wider keto plan. The best thing about this keto seafood meal is that the mussels are filling, so it will leave you feeling satisfied. They're also very moreish, so this will be a keto seafood recipe you look forward to!
Again the sauce is butter and cream based for a high-fat content. Add dill, garlic, and parsley for flavor, and then steam your mussels in the pan with the sauce. The mussels will open once cooked, so you know they're ready!
Cilantro Lime Shrimp
Cilantro lime shrimp is a popular healthy dish and will undoubtedly become one of your favorite keto seafood recipes! It's so quick, easy to make, and is full of flavor. If you miss the great taste of Mexican dishes like tacos and nachos, this is the perfect keto dupe.
Simply add your shrimp to a frying pan with salt, pepper, and a little chilli or cayenne pepper. Fry for 1-2 minutes on each side, add some minced garlic, and cook for another minute. Remove from the heat and toss in your lime juice and cilantro. It's so quick to cook shrimp that you can have this as a snack between meals or serve it alongside cauliflower mash for a low-carb meal. 
Find more mealtime inspiration on our recipe pages and the full range of our premium seafood available online now.