Shrimp and Grits Recipe Challenge
In March, we collaborated with Food Stylist Jessi Hampton from @JustTryingRecipes, inviting her to create her best shrimp and grits recipe featuring our Argentine red shrimp. Here's what happened!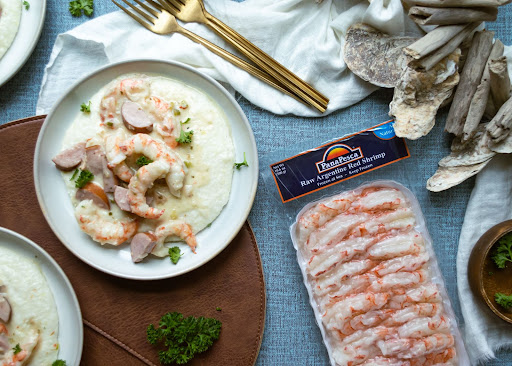 The Inspiration for This Challenge
We first became aware of Jessi's work when we saw her simple seafood pasta recipe using our classic seafood mix. She made the process look super easy, and the final result looked delicious, so we couldn't resist asking her to collaborate on our biggest giveaway to date. 
We were looking to create a recipe that would be straightforward to follow and that showcases seafood in a way that everyone will love. 
We gave Jessi free reign to choose her dish and then challenged both her Instagram and our social media followers to recreate the recipe, to be in with a chance to win a whopping $100 to spend at Panapesca! 
Why Choose a Shrimp and Grits Recipe? 
On why she chose to put together a shrimp and grits recipe, Jessi said, "Shrimp and grits is a go-to meal for many people living in the low country." This dish is a favorite comfort food for many, and everyone has their version of the classic, so we were excited to see Jessi's interpretation! 
Choosing shrimp was a great choice as it's a firm favorite in most households. Shrimp is the most popular seafood among Americans, with an average of 4.6 pounds eaten per capita in 2018. Opting for the most popular seafood item, plus one of the nation's favorite dishes was sure to be a winning recipe.
We sent Jessi some Argentinian red shrimp to help her create the best shrimp and grits recipe. Squeezing a whole recipe into a short reel isn't easy, so having fully prepped shrimp was ideal for saving time. Jessi let us know that making the meal prep one step easier by using Panapesca peeled and ready-to-use shrimp was a no-brainer. She says:  "It was a great addition to my shrimp and grits recipe."
How Shrimp and Grits Became a Household Favorite
Thought to originate in South Carolina, shrimp and grits was a dish with humble beginnings in America. It was an affordable way to provide a substantial meal, shrimp being an accessible source of protein.
Everyone from high-end chefs to home cooks has their take on the classic recipe, most of which are a version of Bill Neal's shrimp and grits, a chef dedicated to Southern food. Different versions of the dish include cheesy shrimp and grits, cajun shrimp and grits, and even healthy versions of the recipe. Regionally, there are many different interpretations across the South. 
For a dish of humble beginnings, it has been elevated in many fine dining restaurants in recent years. Originally considered a breakfast food, shrimp and grits have become more versatile and are often eaten for dinner.
The Benefits of Using Frozen Shrimp
You'll see from the video linked below that you can add the frozen shrimp straight into the cream mixture! There's no need to defrost, and it will quickly cook once added to the pan. Using our frozen shrimp cuts down on prep time because they're topped, tailed, and peeled before we freeze them. They're also conveniently portioned to help reduce waste.
Shrimp and grits is the perfect pantry dinner, making it ideal for a midweek meal. Grits have a long shelf life, as does frozen seafood, so it's great to keep them in stock for a go-to dish that's easy and tasty! 
Shrimp and Grits Recipe by Jessi Hampton
(6-8 servings)
Ingredients
3 tablespoons butter
3 tablespoons flour
1/4 cup diced celery
1/4 cup diced green bell pepper
1/2 cup diced onion
1lb kielbasa cut to bite-size pieces
10.5 oz canned clam sauce Italian style (or canned minced clams + 1tbsp Italian seasoning + 1tsp garlic powder)
Chicken stock (enough to = 2 cups liquid when added to the canned clams)
1/4 cup heavy whipping cream
1lb raw, peeled red shrimp.
Method
In a medium to large saucepan, melt butter and add flour and mix until it's peanut butter color.
Add celery, bell pepper, and onion. Stir constantly for two minutes. Add sausage and sauté for an additional one to two minutes.
Pour canned clams in a large measuring cup. Add chicken stock to equal two cups of liquid. Add mixture to pan and stir. Let simmer for five minutes. Add heavy whipping cream. Continue to simmer on a low heat, stirring occasionally.
Prepare your grits of choice. (I like to use four parts water and one part heavy whipping cream and finish off with smoked cheddar)
Add frozen shrimp and stir. Shrimp will be ready within three to four minutes.

Serve by adding grits to the bowl and top with shrimp mixture.
You can watch Jessi's recipe come together perfectly on her Instagram with a step-by-step recording of her shrimp and grits recipe.
Winner of the Best Shrimp and Grits Recipe Recreation
Once Jessi had shared her take, it was over to you! We loved seeing the feedback on how Jessi had used the shrimp and the entries that followed. 
Our winning entry was from Brandon. Check out his recreation of the shrimp and grits recipe below. Brandon said, "The recipe was super easy and delicious. We will be making it for many years to come." Brandon won the prize of $100 worth of Panapesca seafood, and we can't wait to see the other recipes he comes up with!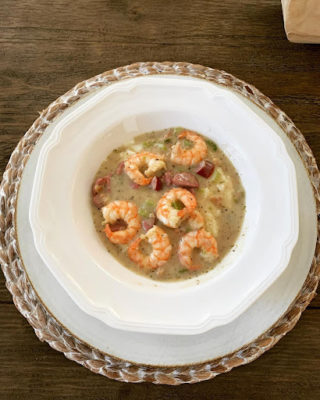 We're passionate about providing products that make cooking easier and more appealing to everyone. Whether you're trying to make the best shrimp and grits recipe or inventing something completely new, we love to inspire a love of seafood. Don't forget if you're cooking with Panapesca produce, you can tag us in your recipe photos on Instagram using @PanapescaUSA, and we repost them to our social media to help share the inspiration! 
To recreate Jessi's shrimp and grits recipe, find our Argentinian red shrimp here!