5 Baby Clam Recipe Ideas You Should Try this Summer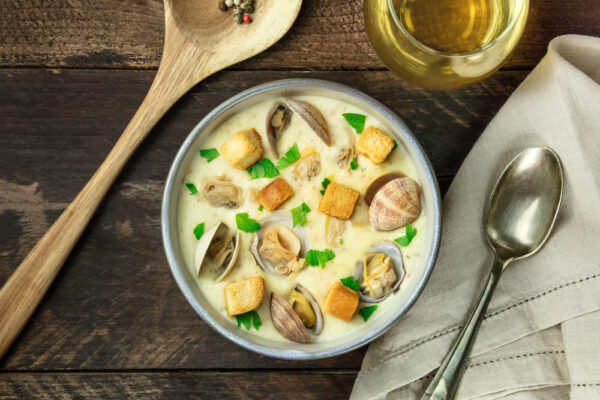 There are plenty of reasons to add baby clams to your meals this summer. They are an excellent source of iron and vitamin C, and they can help you mix up your usual protein of choice, making mealtimes that bit more exciting.
Baby clams are packed full of flavor and extremely easy to cook. If you're looking for inspiration for a baby clam recipe, check out these five suggestions.
Clam Pasta
The most common baby clam recipe is definitely clam pasta. There are so many types of clam pasta that you could eat it all summer long! 
The classic seafood pasta dish linguine alle vongole simply means linguini and clams in Italian. You can prepare this dish one of two ways, "in bianco" or "in rosso," which refers to the sauce's color, using a base of oil and white wine or tomatoes. 
For a baby clam recipe without the fuss of shells, try pasta with clam meat sauce. Our baby clam meats are vacuum-packed in their own juices for extra flavor. 
Miso with Clams
Miso soup is a perfect dish for summer as it is lightweight and refreshing. Miso is protein-rich thanks to its base of soybeans and is also packed with probiotics. Not only is it a healthy pantry item, but it has a delicious umami flavor that matches perfectly with the clams' sweet and salty taste. 
Paella Topped with Clams
Paella is a great summer dish for when you have guests over. Put a large dish in the middle of the table and let guests help themselves! You can top your paella with any seafood, but baby clams in their shells don't take up much space versus the shell of a prawn or langoustine, so you can pack lots of protein into the dish. This also means your guests won't be fighting for the best bits because there'll be plenty to go around! 
Baked Stuffed Clams
Baby clams may be small, but you can still pack them full of delicious stuffing. Our favorite filling for stuffed clams is garlic, parsley, and cheese for tons of flavor. Once stuffed, put your clams into a casserole dish and bake in a hot oven for a couple of minutes for a rich and melted cheese dish. You can also top this baby clam recipe with breadcrumbs for extra crunch. 
Spicy Baby Clams
The sweet flavor of baby clams is great when combined with hot and spicy dressing. Steam for a couple of minutes until they open, and then stir into chili oil or paste in a frying pan. Toss the baby clams to get them evenly coated, and add a squeeze of lemon for sharpness with a handful of parsley or other herbs of your choice. 
For less spice but still some heat, you can toss your baby clams in ginger, bell pepper, and onions with plenty of black pepper. This works great served on top of a cucumber salad to balance the flavors!
Find our full range of clam products available to buy online, including baby clams, baby clam meat, and clams on half shell.