Guide: How to Cook Octopus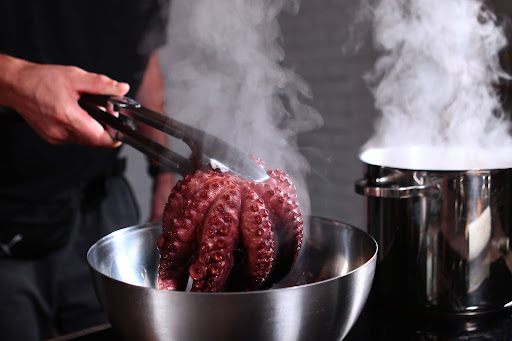 Picking up a new skill or learning how to create something new is a hugely fulfilling experience, but we all need some help the first time. Learning to prepare a new recipe or cook a type of food can take some practice, and that is certainly the case when it comes to learning how to cook octopus. Cooking octopus may seem overwhelming, but it isn't as difficult as you think. 
Octopus is hugely popular throughout Europe and Asia, and dishes like sushi, pulpo, and oktapodi are staples in the diet of many countries around the world. As well as being delicious, octopus also offers many health benefits, so don't be deterred in attempting your own octopus recipe. 
Getting that tender texture might not be easy, but with our tips at PanaPesca USA, we can help you cook a delicious octopus dish. Keep reading our guide to cooking octopus and discover your newest skill. 
How to Prepare Your Octopus
First of all, you will want to get the best frozen octopus you can get your hands on and let it thaw before you start your octopus preparation. You can also use fresh octopus, but if the octopus has not been cleaned this will add to your preparation time.
How to Clean Your Octopus
When you order your octopus from PanaPesca USA, you will receive premium quality frozen octopus that has been conveniently cut and cleaned, ready for you to start cooking. 
With fresh octopus, you will want to separate the tentacles from the body and remove the entrails. You can use each section of the octopus for a different purpose or different dish, and, therefore, you will want to make sure you have the right section for your recipe. 
To clean your octopus, follow these instructions:
Make a cut on the sac at eye level

Cut out the eyes

Go in through the incision you have made and cut out the beak

Rinse under cold running water
Octopus Preparation
Here we take you through a couple of our favorite preparation methods, which you can use when cooking your octopus. Although there are other ways to cook octopus, these methods will give you the best results.
 Boiled Octopus
Fill a stockpot or pan with cold water and add the herbs, vegetables, and stock of your choice.

Bring the stockpot to the boil — heat over high heat until a rolling boil begins

Add your octopus to the boiling water — let the water come to a boil again

Cover the stockpot and leave until tender — this process can take anywhere from 25 to 45 minutes

Remove the octopus and serve.
Grilled Octopus
Preheat the oven to 250 degrees Fahrenheit

Prepare a baking sheet lined with aluminum foil

Place the octopus on the baking sheet and season with salt

Cover with foil and place in the oven until the octopus is tender — this could take up to two hours

Take the octopus out and let it cool

Brush your grill with olive oil and preheat it for 10 minutes before cooking

Coat the octopus with olive oil, salt, and pepper

Place the octopus pieces on the grill and leave to char for four to five minutes until they start to turn brown

Serve with the seasonings, sides, and flavorings of your choice.
We all have our own favorite recipes and preparation methods when it comes to cooking. However, that doesn't mean that you can't try new things. Check out PanaPesca USA's top octopus recipes, and follow our detailed instructions on preparing the most delicious seafood dishes. 
How to Serve Octopus
Although grilling your octopus can give it that smokey kick you might be looking for, the delicate flavor of octopus means that just a bit of olive oil, salt, pepper, and lemon juice are all you need to bring out the best of your seafood creation. 
Suppose you are looking for some additional sides that really bring your octopus to life. Octopus pairs well with Mediterranean flavors like parsley, tomato, and white wine.
Although you might be tempted to play it safe and cook your signature dish, we recommend getting out of your comfort zone and trying your hand at this seafood delicacy. One thing is for sure — octopus is worth every minute of effort and preparation.
For more seafood recipes and guides, be sure to follow the PanaPesca blog. You can also explore our shop and get sustainably sourced seafood with free shipping on orders over $150.