Inspired Seafood Menu Ideas for Restaurants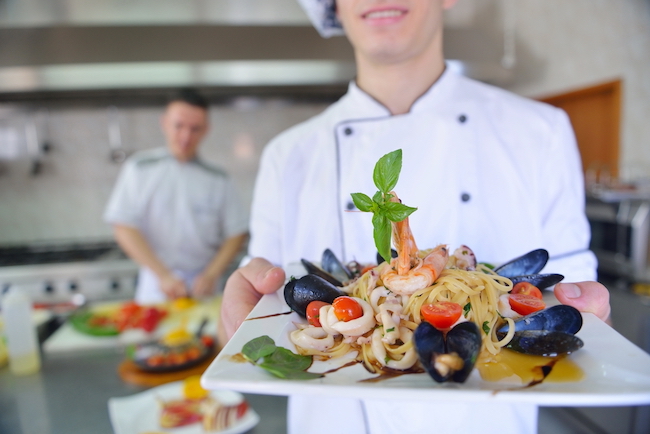 Creating the seafood menu for your restaurant is one of the most creative parts of a chef's job. Whether you're updating an existing menu or starting entirely from scratch, it can be both exciting and difficult to narrow down your seafood menu ideas.
Below we explore some factors for restaurants to consider when compiling a menu. So, whether you're a small pop-up vendor or a high-end restaurant, take a look at what Americans like to see on a seafood menu.
Seafood Menu Restaurant Starters
Seafood makes an excellent starter, and using it as the basis of small dishes means the seafood really is the star of the show. Seafood starters can be quick and simple for a kitchen to prepare — provided you're using top-quality ingredients. With premium quality seafood, you can create a great-tasting dish requiring little effort thanks to seafood naturally having so much flavor!
A squeeze of lime juice can help elevate seafood flavors, and many seafood ingredients will stand up against a strong or smoky flavor because of their sweet taste. Mussels are a highly versatile seafood starter because you can dress, marinate and serve them in so many different ways. A lemon garlic sauce is a classic pairing for mussels, or you can serve with chili for a hint of spice.
Street Food and Casual Dining
For street food vendors and more casual dining, fish tacos are always a crowd-pleaser! Offer seafood or white fish tacos topped with fresh cilantro for a quick and fresh fast food option.
Soy sauce is a perfect pairing for seafood, with dishes like teriyaki salmon being extremely popular with diners. Seafood also pairs well with ginger; the combination of sweet seafood with fiery ginger is great for an Asian salad. Pack full of cucumber for freshness, and top with soy sauce!
Stir frying is ideal for casual dining because much of the prep is done in advance, making it very quick to cook. It is increasingly popular in the West, but with only 9% of restaurants serving stir fry, this is a great opportunity to serve an American favorite with a seafood twist relatively unique to restaurant menus. Include squid or octopus in your stir fry to offer a more interesting version of this dish. 
Another seafood recipe ideal for street food vendors is teriyaki shrimp and scallop skewers. Skewers are great for finger food, and you can offer all different seafood options! Fish aside, shrimp is the most popular seafood in the US, so make sure you include shrimp in your seafood menu ideas. They also work well as a starter in restaurants.
Comfort Food for Your Seafood Menu
Seafood is considered lighter than many meat dishes, but that doesn't mean you can't offer a hearty meal to diners. Cook salmon with potatoes and lashings of grated parmesan cheese for a rich and comforting dish.
Crab cakes are also popular, thanks to their subtle seafood flavor, and can be served as a starter or main. A clam bake is a classic American dish that proves popular on restaurant menus, and there are plenty of ways for chefs to elevate the dish, so you know you're serving up the best version your diners have ever had!
Seafood and pasta are a match made in heaven, so offering at least one pasta dish on your restaurant menu is a no-brainer. There are endless pasta options, so you can even change your pasta dishes every couple of months for variety. Again, have parmesan on hand to make your pasta dish really indulgent!
Comfort food or more classic seafood dishes are great for restaurants wanting to appeal to the whole family. While seafood can have a reputation for being "fancy," using it in more recognizable dishes is also a great way to get people to try seafood for the first time. Add fried calamari onto nachos or fajitas. You want your menu to be accessible but with a couple of wildcard options for the more adventurous diner.
Fine Dining Seafood Recipes
Fine dining is all about providing a menu that guests wouldn't necessarily get at a normal dinner party. Many diners expect to see lobster on a fine-dining menu as an ingredient they would not typically buy and prepare themselves. But there are plenty of other options available.
Ahi tuna is a popular fish often served as sushi, a dish many diners wouldn't prepare at home. Roll in sesame seeds and sear on each side for a tasty charred flavor and added texture.
Cooking seafood is generally quick; even salmon cooks quickly compared to meat dishes. This helps in a high-end kitchen where everything is made to order, and there are lots of last-minute details at the pass.
Make sure you also have a great white wine selection to give diners a great overall experience!
Offer Rotating Seafood Specials
Seafood specials are the best way to ensure you are serving fresh catches and seasonal recipes. It also allows chefs to get creative in the kitchen in an ingredient-led way. Creating seafood recipes around what is available at certain times of the year also keeps your menu varied and interesting.
While salmon is the most popular fish in America, many diners use dining out as an opportunity to eat something they wouldn't typically cook at home. Seafood specials can be a great chance for diners to be more adventurous and try something new. 
While buying frozen food allows you to offer great seafood recipes all year round, you can also choose to use seasonal vegetables and other ingredients to make your specials menu more cohesive. Check out our blog on why restaurants should buy sustainable seafood for more guidance when compiling your seafood menu.
To find out how we can support the wholesale needs of your restaurant business, contact our friendly team today.