America's Favorite Seafood Dish: What Restaurants Can Learn from the US Seafood Market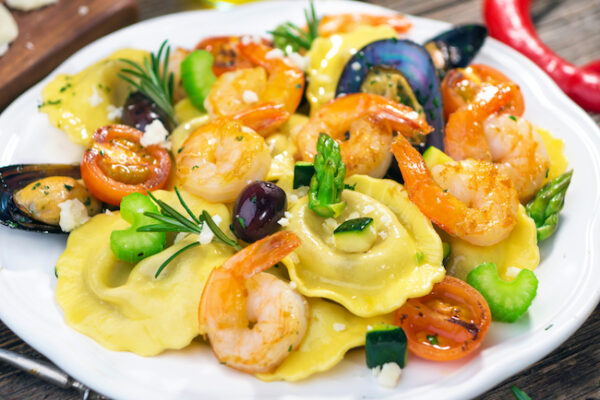 Just like any sector, the seafood industry is subject to trends. With so much change in recent years, the industry has seen more shifts than usual, with the National Oceanic and Atmospheric Administration (NOAA) reporting a broad decline in fishing and seafood industries from the impact of COVID-19. However, there has been increased interest in seafood as a clean eating option, a sustainable source of protein, and a way to add variety to mealtimes.
While the industry adapts to change, some things predictably stay the same. Trends may come and go, but we can learn a lot from how consumers have historically engaged with seafood. Recent years have been a period of change, and 2022 was a good year for the industry, so what can restaurants take away from this? We look at what Americans are eating, their favorite seafood, and what recipes are currently most popular with consumers.
Top-Selling Seafood Ingredients
In 2022 the US seafood market is worth an estimated $6.4 billion. In their Annual Fisheries of the US Report, the NOAA found that crab was the highest value species at $548 million. This is hardly surprising, with crab cakes being one of America's favorite seafood dishes.
Most Popular Seafood Recipes
Clam chowder is undoubtedly one of America's favorite seafood recipes, bucking the trend of seafood dishes that feature fish rather than shellfish. This seafood recipe is a home comfort for many, and the creamy sauce, and rich flavor are a staple in many households.
The many different versions of lobster rolls are also consistently popular, although rarely made at home compared to other seafood recipes. Many American home cooks tend to cook with fish at home and leave the more seemingly complex stuff to the professionals, opting for shellfish when they dine out rather than in their own kitchen.
Surf and turf is another seafood dish popular among Americans, but more so in a restaurant than at home. While one in 10 Americans don't eat meat, a huge portion of the population still does. For many Americans, they prefer to eat seafood alongside meat rather than instead of meat.
Common Home-Cooked Seafood Dinners
Home cooks rediscovered a love of frozen and canned seafood in recent years, and according to the Marine Stewardship Council, those trends continued into 2022. Restaurants can take inspiration from popular homemade seafood recipes to offer more casual comfort food options.
Some of the most popular homemade seafood recipes include simple sandwich dishes like tuna melts and fish finger sandwiches. These rustic, quick, and easy dinner ideas use mild fish and are real crowd-pleasers, rather than anything overly advanced. It's a great way to enthuse people about seafood and eradicate some of the perceived snobbery around eating it. These kinds of dishes are great for food truck style dining. 
Crab cakes are also popular as homemade dishes, one of the few most popular seafood dishes that feature shellfish rather than fish. As ever, shrimp and grits are a household favorite across America.
Favorite Dinner Party Dishes
Fresh shrimp is still one of the most popular seafoods in the US, featuring as the most consumed seafood at 4.6 pounds per person. This is hardly surprising, with shrimp cocktail featuring as a standard seafood recipe on dinner party menus. Shrimp is favored for its subtle flavor and firm texture and is a seafood popular with children as much as adults.
Recent years saw scallops feature in the top ten seafoods consumed by Americans, a reflection of consumers getting more adventurous with the seafood they eat. While tender fish like salmon and cod are still among the most popular, there is "growing consumer interest in gourmet and regional ethnic foods" leading to growth in the global shellfish market. This interest in other cuisines means home cooks are becoming more experimental, with soy sauce, sesame oil, and rice wine becoming staples of the American pantry. This allows chefs to offer more adventurous dishes as consumers are more enthusiastic about trying new things.
Clambakes are also a popular seafood presentation at American dinner parties. This one-pot cooking style is increasingly popular due to the simplicity and variety of flavors. This cooking style also lends itself well to frozen seafood, making it even simpler to create great tasting seafood recipes at home.
Other Trends in the Seafood Market
Nose-to-tail cooking is increasingly popular as consumers prioritize more sustainable eating. The seafood version, "chin-to-fin" is all about eating the whole fish, and making the most of our resources. Eating the whole fish allows chefs to get creative with seafood while reducing food waste.
Seafood stock is a great way to get the most out of fish and seafood scraps and gives a rich base for many of our favorite seafood recipes. So much flavor is hidden in those often discarded parts of the fish, and consumers are more conscious now of reducing waste.
Recent years have seen restaurants offering seafood boil achieve viral success as more consumers discover this casual, messy way of enjoying seafood. Delicious seafood recipes paired with a bit of theatre at the table are a great way to ensure diners have a memorable experience.
Frozen seafood increased in popularity during the pandemic, partly as a way of avoiding frequent trips to the supermarkets for fresh seafood. Frozen seafood sales have stayed at the same high levels of popularity, as consumers realized how quick and easy it was to cook with. 
Find out how other countries compare to America's favorite seafood by checking out our blog of the Top 5 Seafood Recipes from around the World.
To find out more about the premium seafood we can provide for your restaurant business, head to the food service section of our website and get in touch with our friendly team today.